Whoa, Bob, Whoa
Slowly
making the turn after a weekend that, let's be honest, could hold the
number one slot
for the year's best. Jeez...where do I even start?
Left
The Station
on Friday afternoon straight from work. Arrived in
Austin
at roughly 6pm. We unloaded our bags and headed straight for
Zilker Park
.
Day One
:
Toots and the Maytals
. so tight.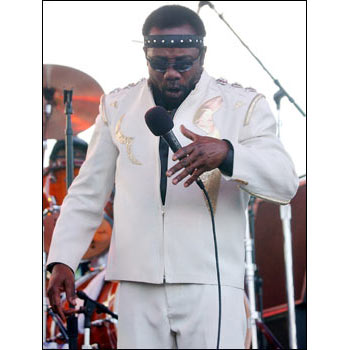 Godfather of reggae...perfect slow, methodical jamming...bass drum thumping, 4-string slapping goodness. Really the highlight of the night considering the last two shows suffered through were
Durst Ferdinand
and
Los Dursty Boys
, respectively (almost would rather have caught
Sheryl Crow-Armstrong
instead...
almost
). Franz threw together some of their
crappy scot-pop
songs, intermittently sprinkled with broken-english commentary (
trainspotting
stizz). Add to that some technical difficulties and a terrible sound engineer, and you've got a recipe for
auditory diarrhea
. no buzz.
Day Two
: After sleeping until noon for the first time in weeks, we headed out again. Much better line-up. Started out with
The
Old 97's
. Awesome. Next session was split between
Howie Day
(come ci, come ca...that's Franch asshole), and
The Gourds
. Directly proceeded by
Modest Mouse
(which they played mainly old stuff...thank god),
My Morning Jacket
(check them out),
Trey Anastasio
(of phish fame),
The Pixies
(
Frank Black
...so tigs) and
G-Love and Special Sauce
. All great shows...
Highlights
included Old 97's, Trey and G-Love.
Day Three
: Best day of all. Kick it off with
Mofro
...a band from Florida who knows how to rally the crowd. Nothing gets the hairs standing on the back of Charlie Murphy's neck like a
wild-ass pipe-organ style keyboard, harmonica, and slide guitar
. They get better and better every time i see them. Schmears. One of my personal favs at the moment. Next was
The Roots
. They get The Murph's
Blue Ribbon
award. Seriously...tore the lid off that stage. Probably the most crowded set all weekend...I'm talking over 50,000 moist people crowded for this event alone (out of 75,000). ?uest-love was beatin them skins...and Captain Kirk (lead guitar...who I met after the show and shook his hand)...damn. In the middle of the set, they started playing The Seed 2.0, and then broke out into a cover of Duran Duran's "White Lines", followed by a cover of Sugarhill Gang's "Rapper's Delight", into "Goodtimes". Effing unbelievable. Also covered was Santana's "Black Magic Woman". Left me dripping. After The Roots, caught
North Mississippi Allstarts
(tight),
Jack Johnson
(chill-best), and the
Drive By Truckers
(true southern rock - grits and bacon stizz).
Overall, the weekend was
huge
.
Highlights:
Mueller's
handicap parking pass
which enabled us to park at the apartments 50 yards from the venue (as opposed to parking somewhere downtown and walking 5 miles like everyone else), my two-minute
Baja Fresh deuce
(seriously impressive considering time constraints), the
hott little blonde girl
wearing a long white skirt and skimpy tank top dancing next to me like a little
flower child on acid
,
GK's experience
,
megan's hottness
(and gracious party weekend hospitality),
green haze
, taco bell's new value menu, crowd frisbee w/ kent, DY's filth, Opitz getting over his worthless ex.
Worst:
98 degree temp. w/
no wind
, Big Fat 60 year old Hippie dancing in front of me (seriously man, you can wear
deodorant
and still be a hippie), dude w/ a tattoo on his back which wasn't visible due to
back hair
, fat girl w/ nipple piercings wearing
no shirt
, franz ferdinand, ass sweat, drink prices,
laws
.
Yeah...that's pretty much all I gots the juice for right now. Keep the Bovs flowin' like Niagra.
Don't Change
.