ehhh
Geez...what a
worthless weekend
consisting of football, red wine mustaches (Yerby stizz), and study hall. Can't really complain about the relaxation, though. schmears.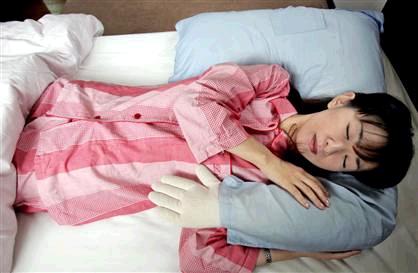 I have seen some rediculous inventions in my day, but
The Boyfriend Pillow
(above) might take the cake. No word yet as to whether or not a
man's version
is in the works. Oh wait...that's right. We don't want you even
touching
us when we're trying to fall asleep (unless you're feeling
frisky
).
BUZZ!!!
An
A-Team movie
is in the works!!! (cue theme song...
jeep flips over
,
grenade explodes sending men 20 feet in the air, shots fire...yet no one gets killed?!)
So Best!
Sean Penn
pre 1990....badass (a la
Fast Times
).
Sean Penn post Carlito's Way
...so
durst
. Let me get
you a tampon and a tissue
, you sissy.
Team America
is a comedy. A satire. Not Serious. Do us all a favor...move to Iraq and race camels.
A few weeks ago, a dog (obviously drowned on purpose) washed ashore on a beach north of Boston. Somehow the story got big and
Matthew Perry
has
donated money
towards a reward in hopes of finding the perp. An act of kindness, or shameless promotion of your name? I mean, everyone loves dogs...but why donate money to this particular cause? Dogs are killed every day. I don't see you doing anything about those.
Hurting for work?
Fobvs.
I hope
Michael Jackson
sues the shit
out of
Eminem
...not because I am against making fun of Jacko (Lord no!), but because Eminem is the biggest
DOUCHE
on the planet. Someone needs to bring that guy down. How did he ever receive so much acclaim? Bye the way...the new song is terrible. And don't think for a minute that he is writing that music. If it weren't for
Dre
, he'd be
Vanilla Ice part deux
already. Some say worst
ass-puppet
evs.
"I'm trying to get my butt
perky
. I have a white-girl bootie, so I'm doing all my squats to get some
junk in my trunk
." — Jessica Simpson.
JEEZ
. I'm talking the
Kitchen Sink
in those Daisy Dukes for your upcoming Dukes movie. Sure is a lot of buzz with regards to she and Nick's
marital troubles
lately. Whispers of a possible split sometime soon? Developing...
Marilyn Manson
is set to play the
Queen of Hearts
in the new adaptation of
Alice in Wonderland
. Creepy.
For all of you CPGayers, that should be enough to distract you for at least 10 minutes. I'm off to start making arrangements for the annual
ski trip
this winter. huge.
Don't change.